20 Creative SMS Examples in Australia
Each year we see new and interesting uses of SMS (by businesses not affiliated with us). If you need a refresh of your SMS strategy or are just dipping your toes into the game, it's worth taking a look at how others are using it. We've made it easy for you by curating 20 of the most unique uses of SMS from businesses in our home turf, Australia.
1) 131 008 Australia Wide Taxi
Industry: Automotive - taxi services
Primary SMS use: Bookings and location pick-up
131 008 taxi booking service connects to over 300 taxi services across Australia. If you're in an unfamiliar location, simply text 131 008 with your pick up address, and they'll dispatch it to the nearest taxi service to come collect you.
They also provide local councils with custom taxi pick-up signs with code numbers unique to the sign location. By including that code in your SMS, you will tell the operator exactly where you're standing. This is especially useful around stadiums, or if you can't spell the town name Mamungkukumpurangkuntjunya after a couple of drinks.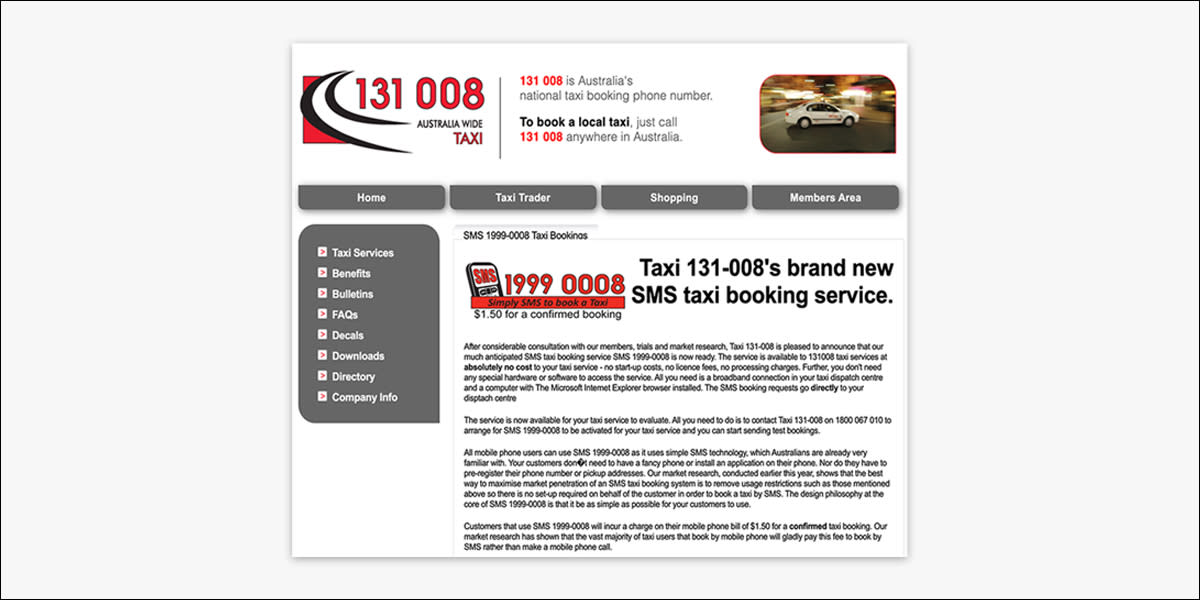 2) Short Message Service: a play by Q Theatre
Industry: Theatre and Arts
Primary SMS use: Storytelling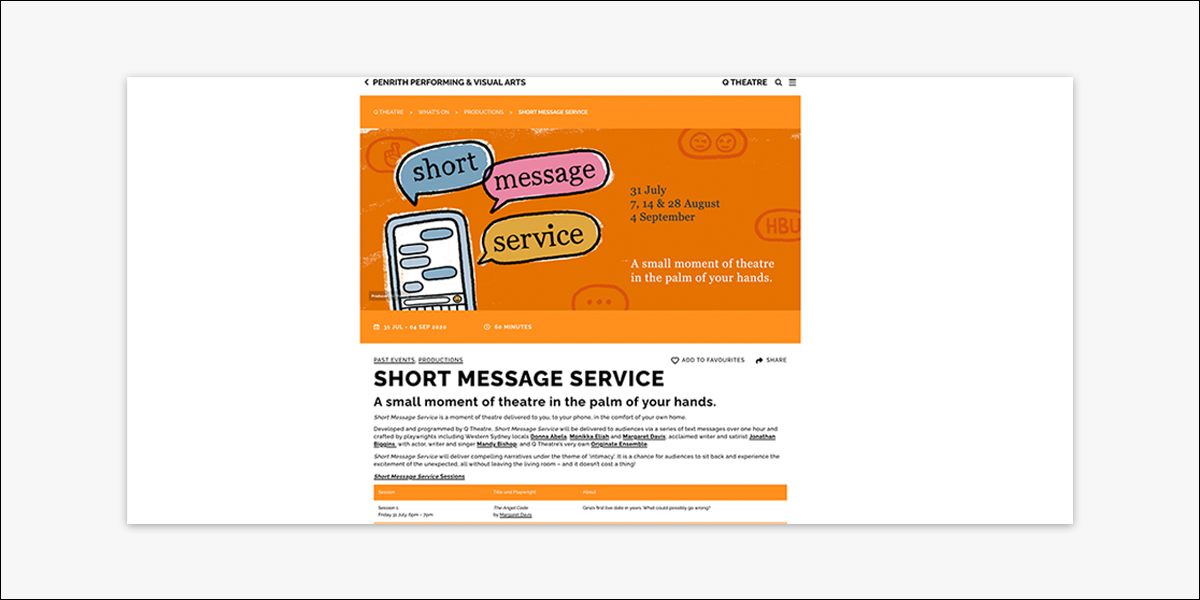 For five weeks, Q Theatre entertained subscribers every Friday at 6pm with a short drama. The series was named Short Message Service: a small moment of theatre in the palm of your hands. Each play was one hour long and sent over approximately 10 texts written by an expert playwright.
Q Theatre opted for SMS as a way to maintain the close, personal feeling, and 'live theatre' culture for their audience in a time when theatres were dark. To 'attend the show', you only needed to sign up with your mobile phone number. This allowed Q Theatre to reach a new audience all over Australia.
Hats off to Q Theatre for their innovative response to live performance restrictions during COVID-19!
3) Lifeline
Industry: Healthcare, Non-for-Profit
Primary SMS use: Counselling, Two-Way SMS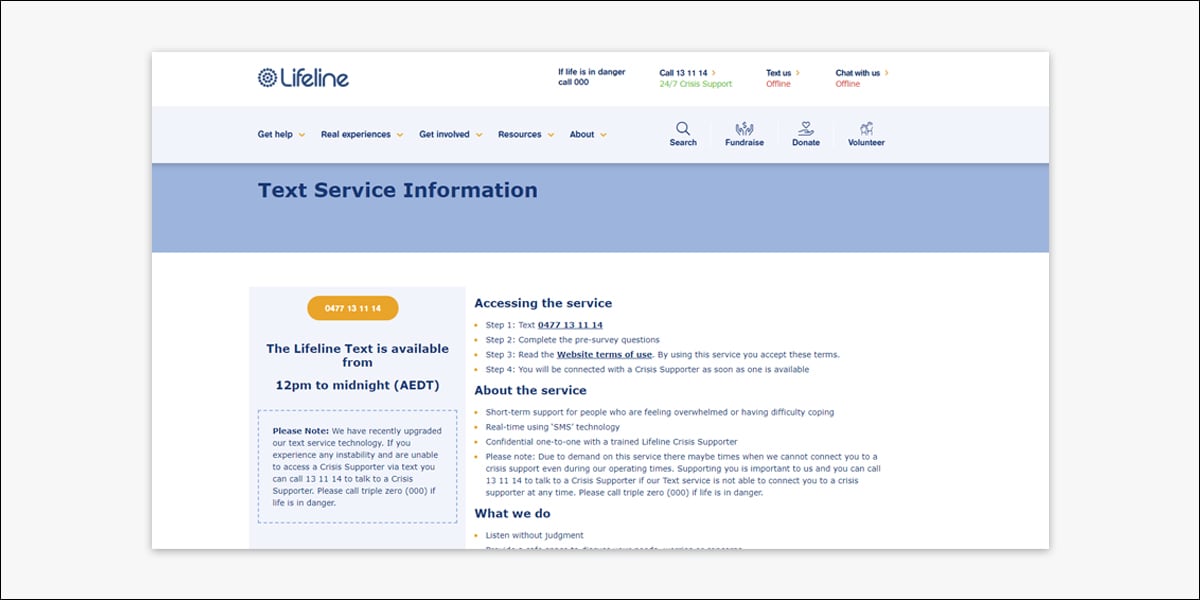 Lifeline is a national charity providing Australians with 24 hour crisis support and suicide prevention services. This non-for-profit offers Lifeline Text as an outreach number for those who would rather talk over SMS.
If two-way communication is useful for your business, check out our Email to SMS feature, which gives you the capability of using your email client to communicate to individuals on their phone.
4) Moreton Bay Regional Council - Queensland
Industry: Government
Primary SMS Use: Weather alerts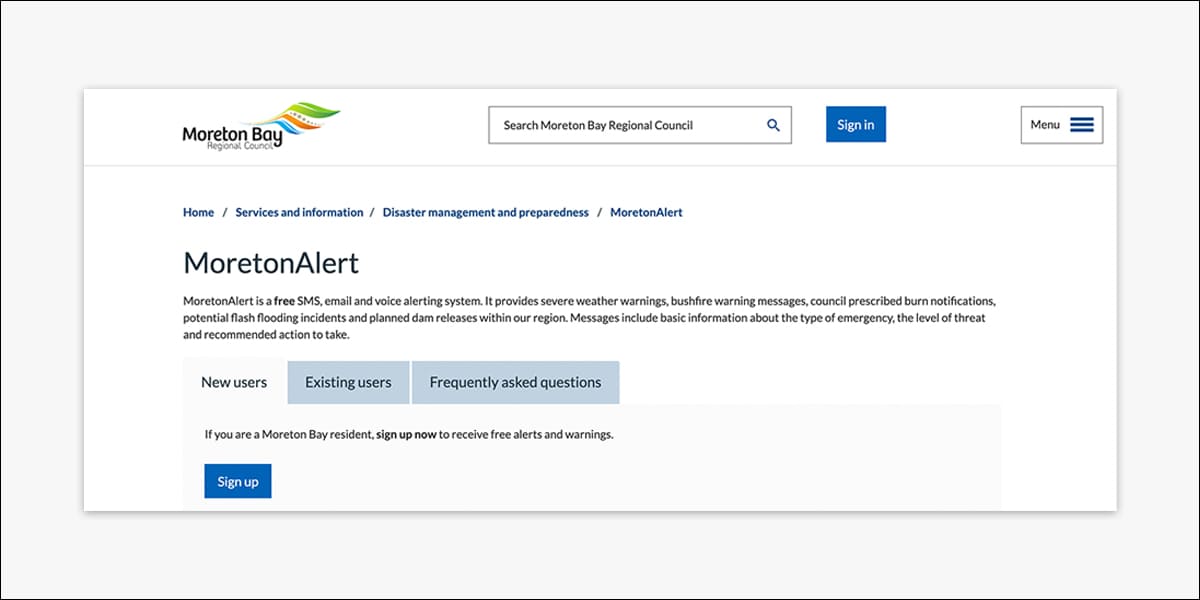 Floods, hail, damaging winds… the residents of the Moreton Bay region often experience extreme weather. The local council operates a MoretonAlert system that issues residents with severe weather warnings via SMS and a link to the live weather map to keep residents informed.
5) SMS4Dads
Industry: Healthcare
Primary SMS Use: Family Support Services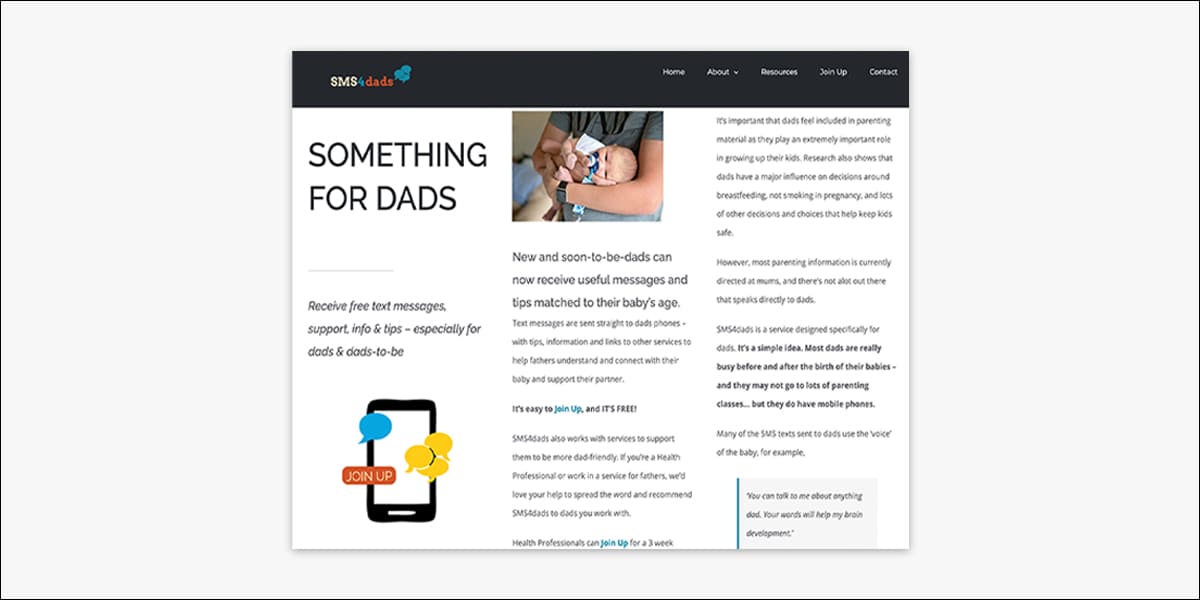 SMS4dads is an SMS service that sends support information and tips to dads-to-be and new dads. They say on their website:
"It's a simple idea. Most dads are really busy before and after the birth of their babies – and they may not go to lots of parenting classes… but they do have mobile phones."
Their SMS tips help dads adjust and connect with their baby, educate them on their development, and provide tips on how they can support their partner; the relevant tips also match the baby's development timeline. Simply sign-up with your mobile number and the baby's due date.
6) Western Australia Police
Industry: Government
Primary SMS Use: Disability inclusive communication, emergency assistance for the hearing impaired
Another example of how useful 2-Way SMS can be. SMSAssist is a Western Australian Police Force service for those who are deaf, hard of hearing, or unable to speak clearly, to report a crime and reach out to an operator. SMS can be useful as an extra communication tool for those with accessibility needs.
7) Sunrise News: Cash Cow Competition
Industry: Television and Entertainment
Primary SMS Use: Competitions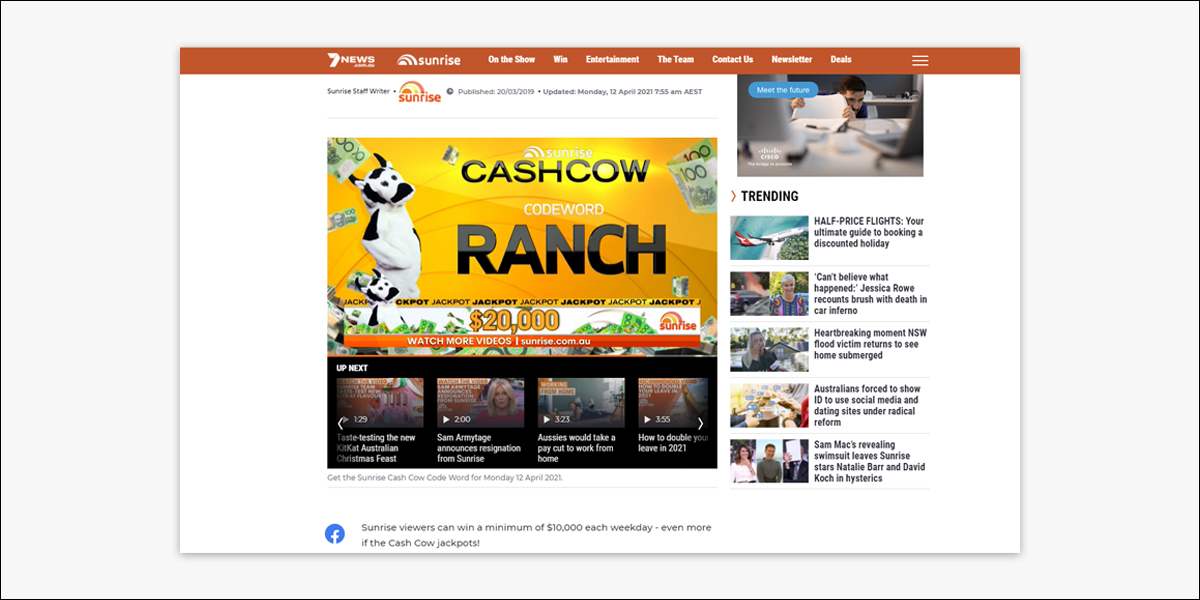 Channel 7 Sunrise news show knows how to get attention, build subscribers, and get more eyes on their show with their Cash Cow competition.
Viewers must watch and listen to the Channel 7 Sunrise news show for a unique Code Word each day. Once they have it, they can enter the competition by texting the word and their contact details to the competition virtual number and wait for the lottery draw.
This popular competition is possibly the biggest SMS competition in Australia with a shiny five-figure prize handed out each day. Using SMS for competitions is an easy way to create some buzz, and it's super easy too.
8) NAB - National Australia Bank
Industry: Financial Services
Primary SMS Use: Account Security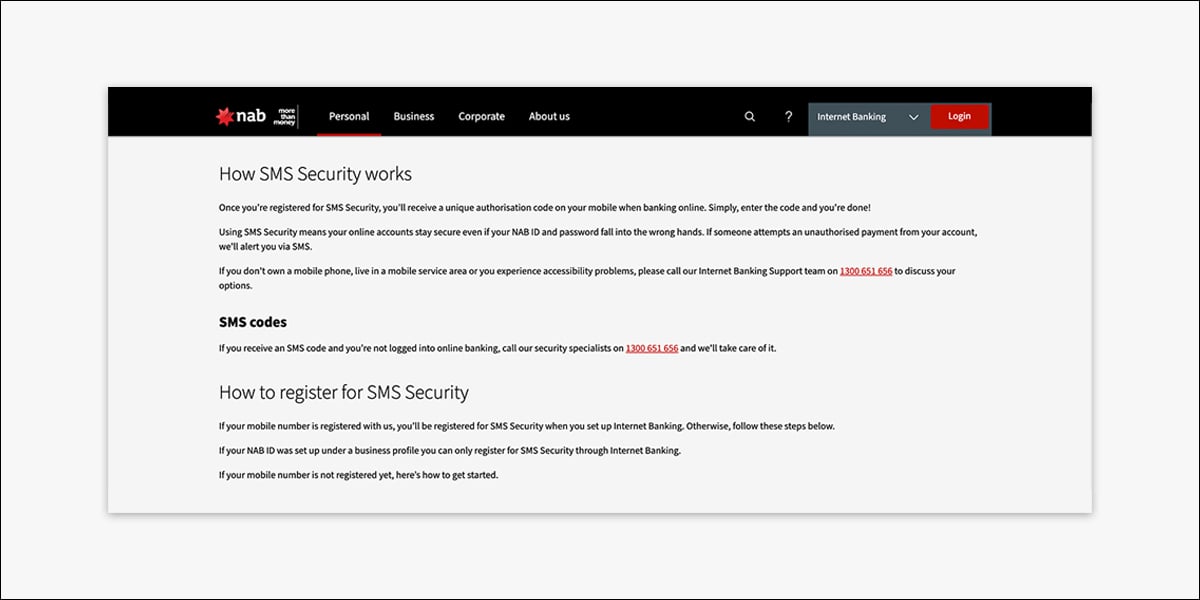 SMS is popular among banks for increasing account security with Two-Factor Authentication (2FA). National Australia Bank protects their client's accounts against fraudulent activity by requiring an SMS security code for authorising money transfers, changes to personal information and account settings.
We wrote about other banks earlier that give a deeper insight into how SMS can be used in the finance industry.
9) Myer Department Store
Industry: E-Commerce and Retail
Primary SMS Use: Sales and Promotion
Myer has long been Australia's largest department store by revenue and store count. They send SMS promotions to the members each month to communicate the latest online and in-store offers. If you're a retail or e-commerce store, this can be an effective marketing tactic to retain your members but there's so much more you can do.
10) The ICONIC - online fashion retailer
Industry: E-Commerce and Retail
Primary SMS Use: Sales and Promotion
The ICONIC online shopping website promotes various brands in their SMS marketing messages. If you carry different product types or brands, try experimenting with different brand names in your SMS marketing messages to see if you get any interesting results.
For example, you can A/B test a sales promotion by highlighting different brands or flavours to see which ones raise more click throughs.
11) Rozelle Automotive
Industry: Automotive
Primary SMS Use: Reviews
Rozelle Automotive is one of the many car mechanic workshops in their postcode. The small business collects feedback and reviews to help grow their business. After a driver collects their car from servicing, Rozelle Automotive sends an SMS requesting feedback and a link to their Google business page. SMS allows them to easily collect online reviews, stay ahead of the competition and grow their reputation.
12) Qantas Airways
Industry: Transportation
Primary SMS Use: Scheduling and Reminders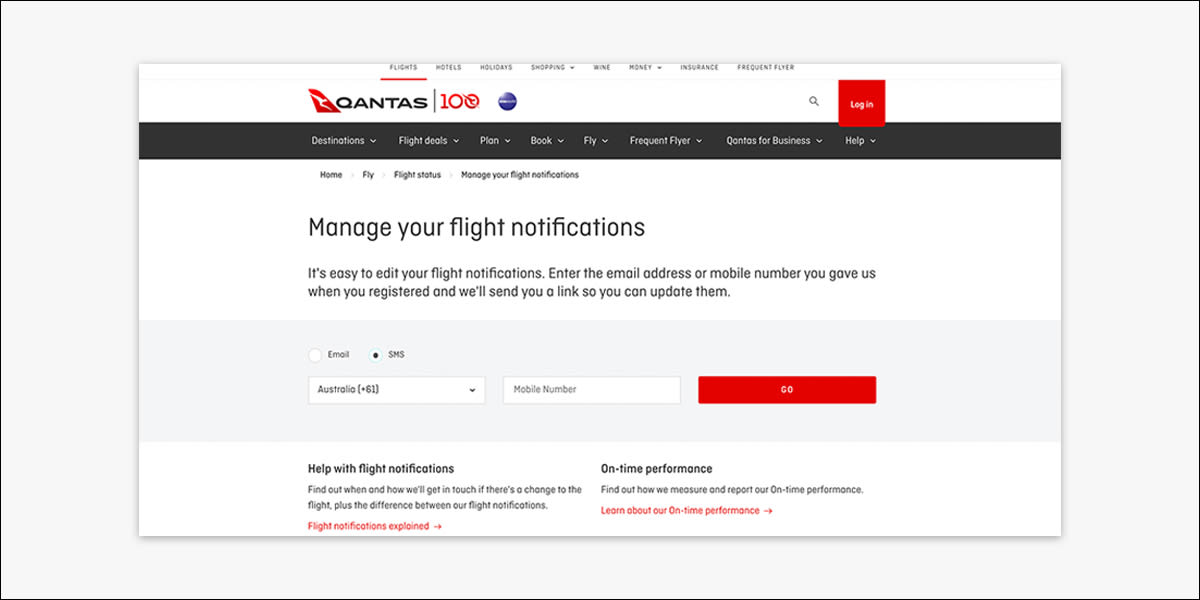 The erratic opening and closing of State and Territory borders threw airports into chaos during the pandemic. Luckily, Qantas' flight notifications via SMS helped keep passengers up to date with the latest flight times. Simply input your mobile number attached to your ticket and you'll receive an SMS with a link to update your preferences.
13. Gambling Help
Industry: Healthcare
Primary SMS Use: Counselling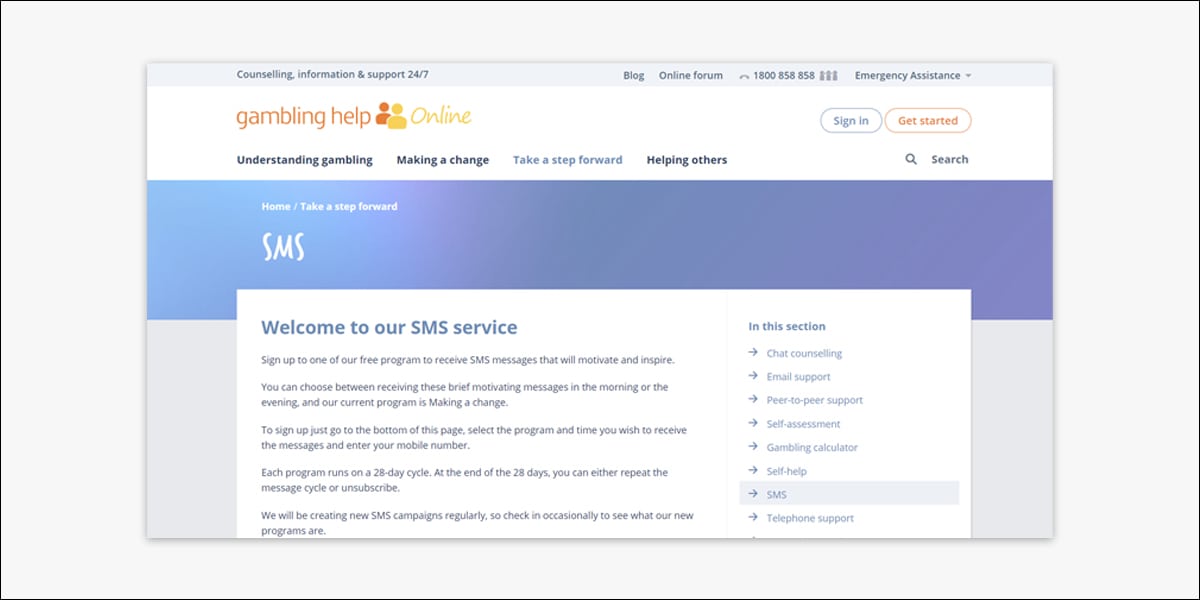 Gambling Help is a non-for-profit that counsels gambling addicts. They have created several automated programs comprising 28 motivational SMS messages. When individuals join a program, they receive a motivational SMS each day that supports them to overcome their addiction. Individuals have the option to repeat the program once they have received all 28 SMS or join a new program.
This makes perfect sense for some businesses, but consider your own strategy carefully. Annoying your database with too many SMS can lead to higher opt-outs, while letting too much time lapse between sends could mean losing engagement (and revenue). Testing is key.
14. Rhodes Waterside Shopping Centre
Industry: Shopping Centre Operator
Primary SMS Use: Customer Feedback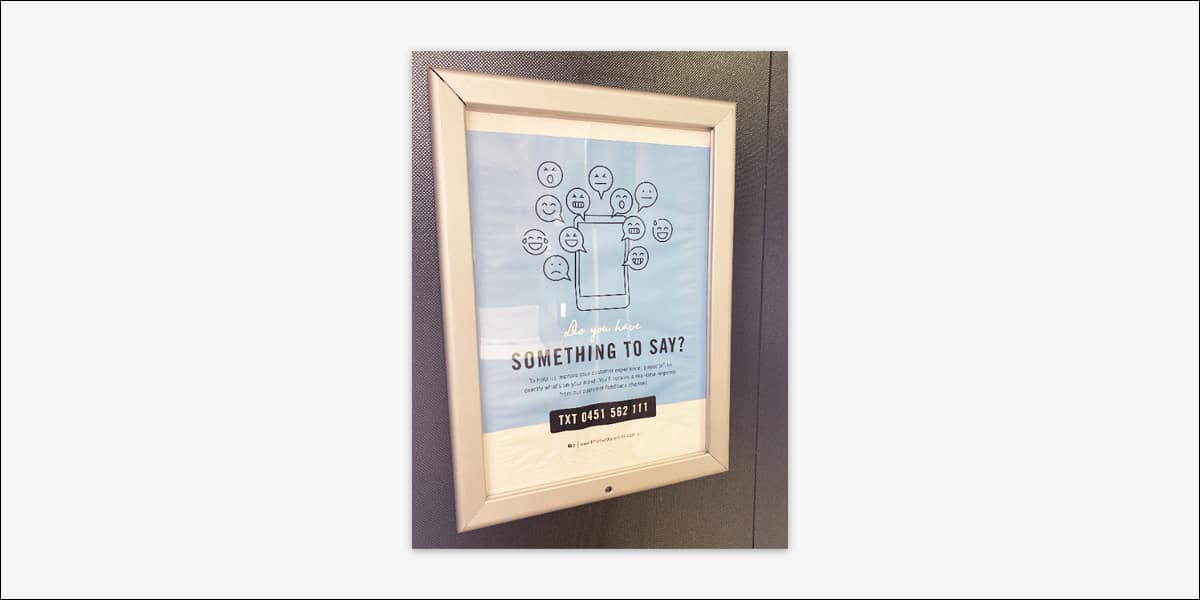 Rhodes Waterside Shopping Centre wants timely feedback from customers if anything in their centre needs cleaning. "Tell us exactly what's on your mind and you'll get a response straight from our customer service channel - Text 0451 562 111". Signage is a great idea for advertising your SMS initiative. It's hard to ignore their sign when it's on the back of the toilet door.
15) Asquith Girls High School
Industry: Education
Primary SMS Use: Attendance notifications
Technology has made it harder to skip school or be late at Asquith Girls High School. This high school is keeping parents informed on their child's attendance. When a family lives far from school these alerts can reassure anxious parents that they'll be notified if their child hasn't arrived or is late.
16) BMW
Industry: Automotive
Primary SMS Use: Bookings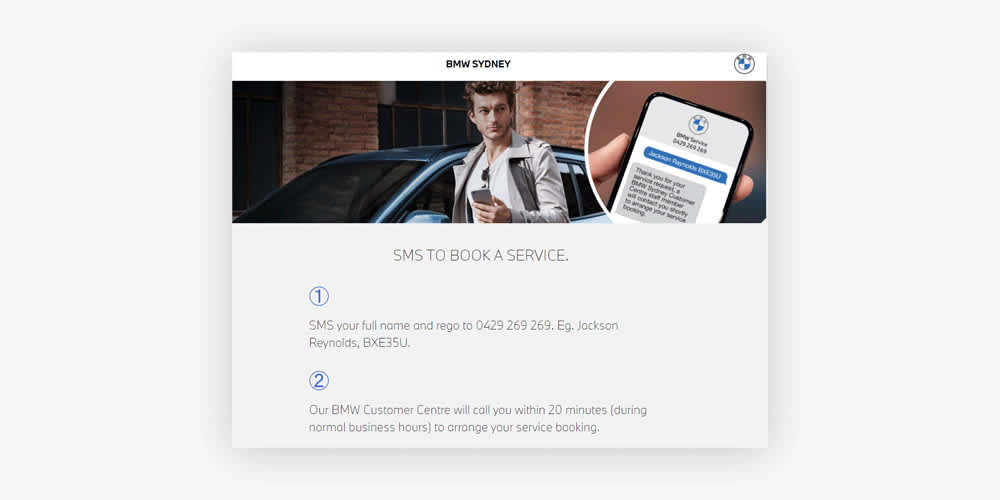 Booking a car service at BMW Australia takes one step. Simply text your name and number plate to 0429 269 269, and you'll receive a call back in under 20mins. By providing your number plate, they will be able to look up valuable information in advance. A Virtual Number can be very useful for customer support services.
17) Amaysim
Industry: Telecommunications
Primary SMS Use: Promotions and Alerts
Amaysim is an Australian mobile provider of mobile phone plans. They have turned an informative message to one that is playful, shows their brand personality, and gives appreciation. A great example SMS customer loyalty and retention techniques using SMS.
18) JB Hi-Fi
Industry: Retail and Electronics
Primary SMS Use: Digital Receipts
Electronic receipts are growing in popularity and for great reason; they don't fade or get lost. JB Hi-Fi, an entertainment retailer with 303 stores across the country, provides the option for a customer to receive electronic receipts via SMS. Each store has a unique SMS Sender ID, so that you can remember which store you purchased from. This one is "JBWestfdSyd", an abbreviation for JB Hi-Fi Westfield Sydney. They also use "JBTheGaleri" for the store in The Galeries. A unique ID for each store works but consider a naming convention and include your business name.
19) Victoria University
Industry: Education
Primary SMS Use: Alerts and Reminders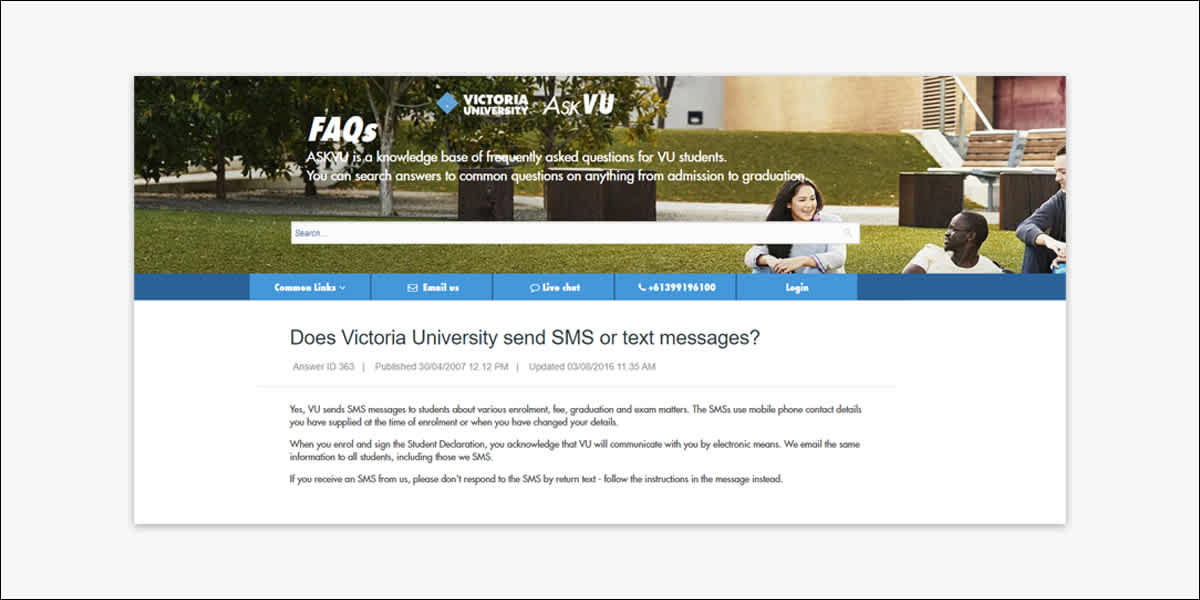 Deadlines, enrollment fees, exams…it can be overwhelming to remember (anything that's not a party) while studying. Victoria University sends every enrolled student date reminders for enrollment, course fees, exams and graduation. SMS has an average open-rate of 98% so is perfect for a generation that spends a lot of time on their phone.
20) Clinic 24/7 Chiropractic Care
Industry: Health Care
Primary SMS Use: Promotions and Bookings
Patients overdue for check-ups can impact your bottom line. Incentives are a great way to encourage patients to come back for a reexamination. Using the name of the patient's doctor at the start of the message instantaneously creates a feeling of connection.
You can also use 2-Way SMS to check how your patient is feeling after the appointment. Sending a follow up text message to offer additional support or a short survey asking them to rate their pain level will help with maintaining that doctor-patient relationship.
Sign up now for a 14-day trial. No credit card, no obligations.